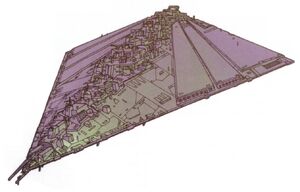 The Flagship of an entire Angelic Fleet
Schematics
Edit
Deviant-Class Aerial Flagship
Edit
Production information
Edit
Manufacturer:
Edit
Heavy Destroyer
Heavy Carrier
Dreadnought
Flagship
Design Brainchild:
Edit
Technical Specification
Edit
1000 Meters at Bridge Tower
Armament:
Edit
5x Heavy energy cannon batteries
10x Medium energy batteries
4x EM (Electro Magnetic) cannon batteries
25x missile/torpedo launchers
200 heavy energy projectiles
Other Equipment:
Edit
Heavy Energy Shields, follows armour surface.
Interdiction field, makes all non-Albion ships slower and harder to control.
Heavy Armour.
Heavy Electronic Shielding.
3x Tractor beam projectors.
Complement:
Edit
Legionaires (can carry over six million Legionaires) -
Unknown Number or types
Small Airships (Complement of 200 Airships of Varying Sizes) -
?x Abaddon-Class Interceptor Airship
?x Creiz-Class Heavy Bomber Airship
?x Rodian-Class Aerial Transport
?x Rex-Class Aerial Attack Transport
Affiliation:
Edit
Albion's 8th Aerial/Space Fleets
"Lunatic Pandora" Defence Armada
Dark GF Search Force
Project "Hyne Revival"
Known Owners:
Edit
Known Commanders:
Edit