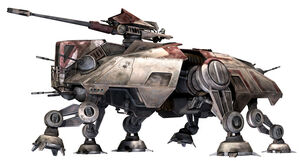 A Heavy-Attack Type Armoured Attack Transport that is designed to move across the ground and even up verticle objects with much ease, it was the sixth prototype in the HATE Series which was chosen to be the mass produced "Tank" of the Military Forces.
Schematics
Edit
HATE-06G6 HATE
Edit
Production information
Edit
Manufacturer:
Edit
Heavy Artillary
Mobile Armament
Design Brainchild:
Edit
Technical Specification
Edit
Armament:
Edit
1x Long-range Heavy Energy Cannon
6x Antipersonnel Cannons
Other Equipment:
Edit
Heavy Energy Shields, follows armour surface.
Heavy Armour
Can walk up verticle surfaces
Complement:
Edit
Legionaires (can carry a handful of Legionaires) -
Unknown Number or types

Can carry a number of troops
Affiliation:
Edit
Legionaire Terrestrial Forces
Dark GF Search Force
Project "Hyne Revival"
Known Owners:
Edit
Known Commanders:
Edit