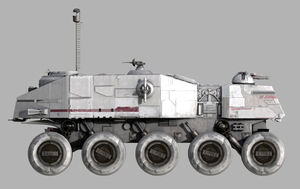 A Mobile Carrier designed to carry troops and vehicles across the battlefield, compared to other armours they are in limited quantity, their shielding and armour making it near impossible to destroy.
Schematics
Edit
HATF-89M6 Galleon
Edit
Production information
Edit
Manufacturer:
Edit
Heavy Artillary
Armoured Transport
Design Brainchild:
Edit
Technical Specification
Edit
Armament:
Edit
1x Heavy energy cannon turret
1x Rapid repeating energy cannon
2x Medium anti-personnel energy cannons
2x Twin energy cannons
2x Rocket/grenade launchers
Range: 30 km[1]
Other Equipment:
Edit
Heavy Energy Shields, follows armour surface.
Heavy Armour
Missile Jamming Devices
Complement:
Edit
Legionaires (can carry a handful of Legionaires) -
Unknown Number or types
Can carry up to 200 Troops and some armoured units
Affiliation:
Edit
Legionaire Terrestrial Forces
Dark GF Search Force
Project "Hyne Revival"
Known Owners:
Edit
Known Commanders:
Edit