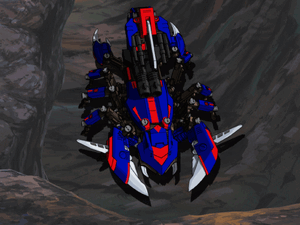 A powerful type of Ground/Aquatic Weapon that has enough power to destroy entire Cities from Orbit, there is presently only one in the world, piloted by
Trian Reine
.
Schematics
Edit
HATSW-01 Stinger
Edit
Production information
Edit
Manufacturer:
Edit
Heavy Artillary
Tactical Superweapon
Underwater Armoured Weapon
Ground Armoured Weapon
Aerial Armoured Escape Vehicle
Design Brainchild:
Edit
Technical Specification
Edit
Armament:
Edit
2x Strike energy Bite Scissors, as claws
2x Laser Cutters, mounted on side of claws
2x 120 mm Hyper energy Gun
2x 20 mm Hyper energy Gun
1x 930 mm Double-Barrelled Shock Gun
1x Mega Plasma Cannon, in tail
Other Equipment:
Edit
Heavy Energy Shields, follows armour surface.
Heavy Armour
Missile Jamming Devices
Complement:
Edit
Legionaires (can carry a handful of Legionaires) -
Handful of passengers
Affiliation:
Edit
Legionaire Terrestrial Forces
Dark GF Search Force
Project "Hyne Revival"
Known Owners:
Edit
Known Commanders:
Edit