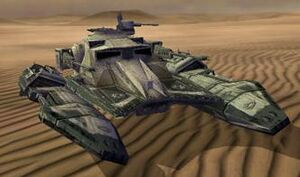 Write the text of your article here!
Schematics
Edit
LATI-06G6 LATI
Edit
Production information
Edit
Manufacturer:
Edit
Rapid attacking Vehicle
Scouting Vehicle
Design Brainchild:
Edit
Technical Specification
Edit
Armament:
Edit
2x Dual heavy energy cannons
1x Medium twin energy turret
2x Dual heavy missile launchers
16 energy projectiles each
Other Equipment
Heavy Energy Shields, follows armour surface.
Heavy Armour
Hover Engines
Affiliation:
Edit
Legionaire Terrestrial Forces
Dark GF Search Force
Project "Hyne Revival"
Known Owners:
Edit
Unknown
1x Pilot
1x Co-pilot/Navigator
1x Gunner (optional)
Known Commanders:
Edit